Sibs Web Series Los Angeles Screening at The Three Clubs is Aug 27th!
*As seen on PRUnderground
The sibling comedy series "Sibs" created by Kimberly Niccole and Bryan Scamman will screen a portion of the show's first season to audiences in Los Angeles on August 27th from 5:30-7:30pm at The Three Clubs in Hollywood. RSVP tickets for the event are available on Eventbrite. This special screening is for industry professionals, press, friends, and show sponsors/collaborators.
Sibs Comedy Series producers, Kimberly Niccole and Bryan Scamman, will screen a portion of the first season of Sibs at the famous The Three Clubs (1123 Vine Street, Los Angeles, CA 90038), on Sunday, August 27th from 5:30pm-7:30pm. The Los Angeles screening of the independent web series celebrates independent series creators and will be open to friends, series contributors, sponsors and industry professionals. Refreshments will be provided, and a short Q&A with the series creators will follow the screening.
Watch the Screening Trailer Below: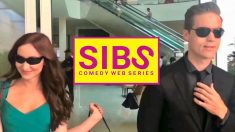 About the Series: Sibs is a bonkers fun look at sibling relationships and Los Angeles selfie culture told from the perspective of two maladjusted but fun-loving siblings vlogging their way through life's challenges.
"Not only is the series honest-to-goodness, laugh out loud comedic gold, it is also extremely representative of a specific bond laughter creates between the closest of siblings/friends." – Kathryn Trammell, (Starry Constellation Magazine)
Created by and starring real-life sibling duo Kimberly Niccole and Bryan Scamman, the upcoming screening in Los Angeles will feature Sibs' finale episodes "Nana's Secret" in a short film format entitled "Super Secret Canadian Spy Movie," in which the brother-sister team are called to fulfill the legacy of their late grandmother and save the world from Canadian super spies. Sibs released the official screening trailer on August 14th.
With Sibs acquiring over 100,000 views across platforms in its first season, the web series team is opening the show to a live audience at the August 27th screening for feedback and support in preparation of the show's second season.
"We had a great first season, and the opportunity for this feedback as independent series creators is invaluable to us as we begin preparing for Sibs season 2," said Executive Producer Kimberly Niccole.
Breakdown of Sibs Los Angeles Screening at The Three Clubs:
5:30: Pictures and Refreshments Served
5:50: Opening by Series Creators
6:00: Screening Starts
6:40: Q&A with Cast and Creators
7:00: Closing and Refreshments
*Parking is available at The Three Clubs extended parking lot and is free for event attendees.
RSVP for Sibs Comedy Series L.A. Screening here.
Get Your Products, Shows and More featured! Learn How at Sibs' Faves!
Don't forget to Subscribe on YouTube! New Episodes of Sibs Sundays @ 8pm PST