Support Indies: Sibs is New on Stareable
*As Seen on PRUnderground
Comedy Series creators Kimberly Niccole and Bryan Scamman launch Sibs on Stareable, a hub for web series and content creators to showcase independent episodic shows.
The Los Angeles based team at Broster Productions officially launched campaigns for Sibs Comedy Web Series on Stareable this week following the finale of the show's first season on YouTube. Stareable is an online platform for independent shows to gain visibility based on user interests. For first-time series creators Niccole and Scamman, it's an opportunity to connect with like-minded creators and increase awareness for the new channel.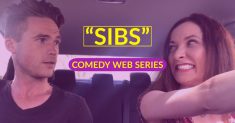 Sibs is an offbeat, quirky comedy manned by real-life sibling team and SAG-AFTRA actors Kimberly Niccole and Bryan Scamman. The comedy series highlights the bond between siblings through the misadventures of a dimwitted brother-sister duo in L.A.
Sibs released 13 episodes in the show's first season, including a highlights episode and a 2-part season finale, ending the season with over 20,000 views and around 6,500 followers across social media. "We recently finished our finale episode of Sibs on YouTube and now is a good time to focus on outlets for creators, like Stareable. They have an incredible platform for independents and we are excited to be involved," said Niccole.
Stareable benefits web series by attempting to level the playing field for small and indie projects by allowing users to review their favorite content and add shows to playlists. Stareable also supports creators by not only hosting a community but also by providing resources and content to help content makers achieve greater success with their projects. While the Stareable team is small, its founders have made great strides in creating a central hub for independent series connections and content discovery.
"Stareable is currently holding a contest in the month of July and has pledged $2,000 toward a crowdfunding campaign for the show with the most views for the month on the platform," said Scamman. "We are ready to start funding our second season of Sibs and winning the contest would give us a great start on Season 2!"
Sibs Co-Creator Kimberly Niccole (Video)
As its tagline "Watch Outside the Box" suggests, Stareable connects great shows with people who will love them but may not otherwise be able to find them due to television and new media saturation. Boasting a wide variety of content categories, Stareable is home to over 3,000 shows in such categories as Action, Adventure, Comedy, LGBT, Education, Family, Drama, Horror, etc. Sibs Web Series can be found in the independent series section on Stareable and has been trending in the Comedy and Family Categories since July, 19th, 2017.
Season 2 of Sibs Web Series is scheduled for the fall and the show's creators are focused on funding the new season and connecting with content creators and fans. The Sibs Website was released June 9th in conjunction with the finale to stay connected to viewers, and the show's presence on Stareable is connecting new fans to the quirky comedy duo. Sibs released a giveaway on their website in conjunction with Stareable's contest.
Support Sibs Web Series and independent series on Stareable.
Have something awesome you want featured? Let us know in Sibs' Faves
Enter to Win a $20 iTunes Gift Card from Sibs!
Don't forget to Subscribe to Sibs Comedy Web Series on YouTube