Broster Productions New Releases for Sibs Comedy Web Series
*As Seen on PRUnderground
New website launches and season finale airs for SIBS, a sibling comedy series led by Co-creators Kimberly Niccole and Bryan Scamman, and produced by Broster Productions. The website was released Sunday, July 9th, 2017 in conjunction with Part 1 of the 2-part season finale of the YouTube Comedy (about the misadventures of an unwitting brother-sister team in Los Angeles). Part 2 of the Season finale aired Sunday, July 16th, 2017 on YouTube.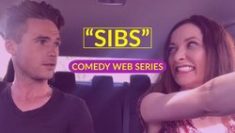 SIBS is a new YouTube comedy web series following the misadventures of sibling team, Bryan and Kim, in celebration of loving sibling rivalry, adulting and the selfie/vlogging culture in Los Angeles. Ridiculous and laugh-out-loud funny, SIBS highlights the bond between an unwitting brother-sister duo trying to get the most out of L.A. life. The official Sibs Website was released Sunday, June 9th, in conjunction with the first of a two-part season finale of the show.
"Not only is the series honest-to-goodness, laugh out loud comedic gold, it is also extremely representative of a specific bond laughter creates between the closest of siblings/friends." – Kathryn Trammell, (Starry Constellation Magazine)
Co-creator and Star Kimberly Niccole said, "We released the website as a way for fans to stay in touch, connected and laughing while we work on Sibs Season 2. Our sincere thanks to our team at Wham Social in Los Angeles, as well as our friends at Market It Media in Pasadena, for helping us launch the Sibs website — it's gonna be fun!"
The website features news and press from the show, comedy blog, embedded video gallery so fans can watch the show directly in the site, an Amazon gift card giveaway, a way for new brands and shows to get featured, etc. "We're really working at building out this world of Sibs for the fans", said Bryan Scamman, "We want it to be a place where people can laugh and just have a lot of fun amidst the craziness of life."
The show's first season will end Sunday, July 16th, with 14 episodes (including a highlights episode, "Sibs Faves", released July 2nd, 2017). The season finale of Sibs Comedy Web Series on YouTube is released as a special two-part episode entitled, "Nana's Secret". A culmination of things the characters learn throughout the season, in episode 11 "#Namaste", Bryan and Kim lose their beloved "Nana" (which may have been their fault), and in "Nana's Secret" Part 1, the siblings uncover the truth about their grandmother's life as an American spy with an unfinished mission. Hilarity ensues over the course of the finale and the not-so-smart sibs take on a James Bond-like mission to end what Nana had started.
The show has been described as "ridiculous and crazy in all the right ways", as the characters blow up their chances at success, often a function of combined stupidity or vice. Broster Productions added,  "Bryan's character just wants to be famous by any means, and Kim's character just keeps mucking it up for him, getting them banned from Canada in Episode 9, losing him auditions while trying to get in on the act in Episode 3, etc. But at the end of the day, it's the sibling bond against the world that keeps them going."  In addition to the new website and YouTube Channel, Sibs can be watched on the web series' hub, Stareable.
Produced by Broster Productions, and starring, directed and written by Kimberly Niccole and Bryan Scamman, Sibs Comedy Web Series' Season Finale can be watched on YouTube here: Nana's Secret (Part 1), and "Nana's Secret (Part 2)" will be available for viewers on Sunday, July 16th at 8pm PST on the show's YouTube Channel).
Have something awesome you want featured? Let us know in Sibs' Faves
Enter to Win a $25 Amazon Gift Card from Sibs!
Don't forget to Subscribe to Sibs Comedy Web Series on YouTube